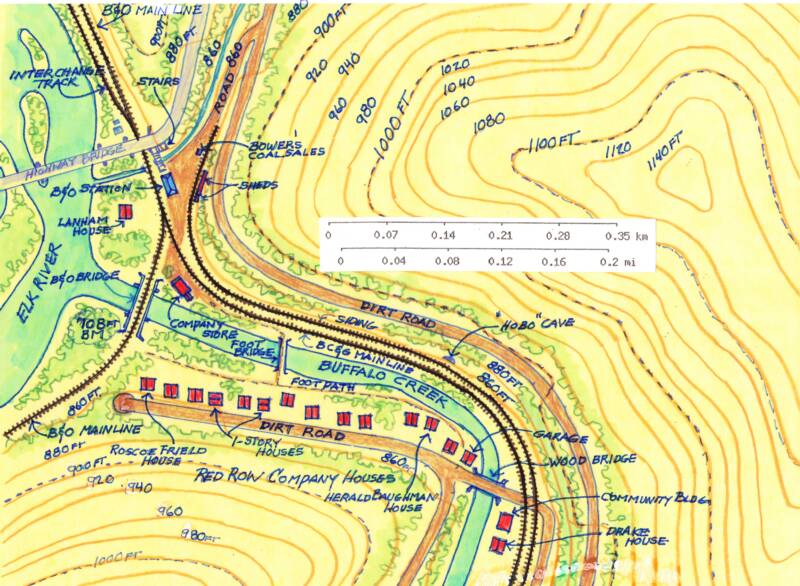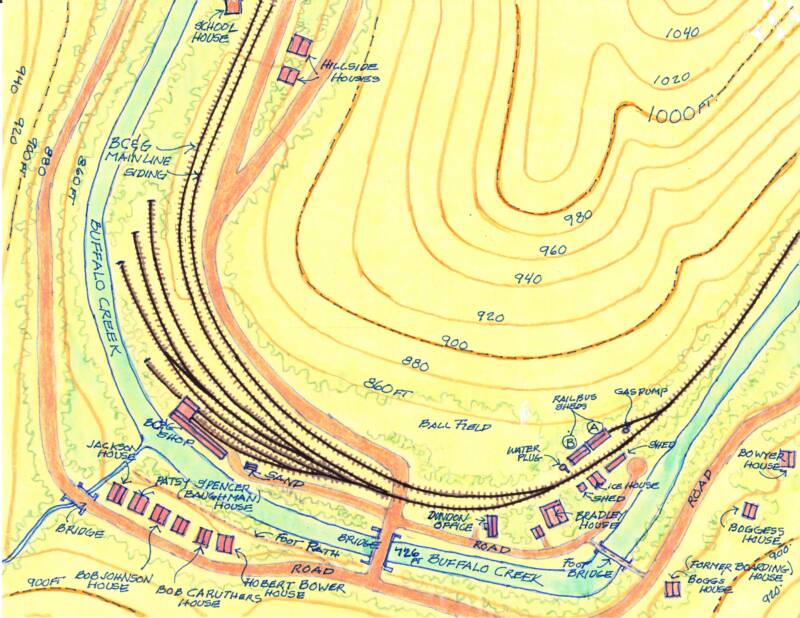 This track plan of the area around the shops and the interchange that appeared in the November 1959 issue of MODEL RAILROADER MAGAZINE is the only track plan I'm aware of that was ever published of any part of the railroad in a magazine or book.  It is not to scale, but until Herald Baughman and Phil Bonzon combined to create the other maps on this page, was the best available.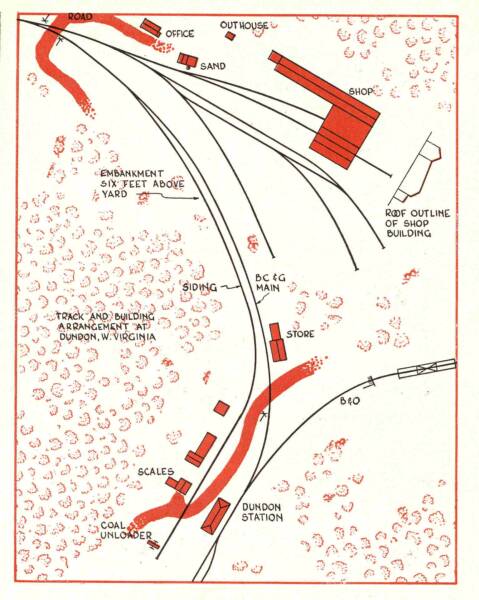 HOBO'S CAVE

Along the main between the yard and the B&O station was a large cave cut into the rock cliff.  Men would spend the night there waiting to get jobs with the railroad or at the mine.  There is evidence of campfire smoke on the roof of the cave.  The cave is visible behind the HUMMER which is sitting on the B&O main.  The viewer is looking toward the Dundon Yard.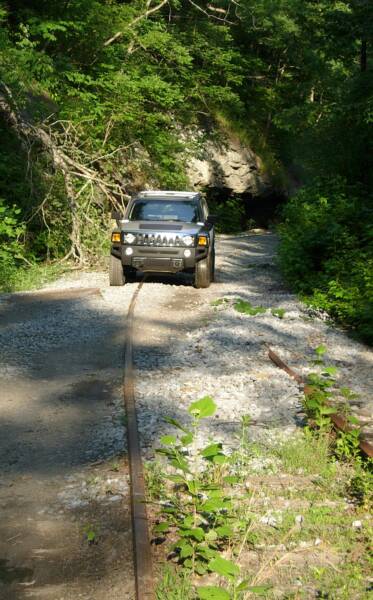 Brooks Stover photo, June 2007

A VERY special thanks go to Herald Baughman and Phil Bonzon for working together to create these accurate maps of lower and upper Dundon as they were in the late 1950's.  Herald, and his wife Patsy, provided Phil sketches of the area identifying the residents in all the houses and the other key structures.  Phil then meticulously transferred the information to a topographical map of the area.  It doesn't get any better than this!  Thanks Herald, Patsy and Phil!  These maps are certainly the definitive record of Dundon during the 1950's!  Farther down the page is the topographic map that Phil used as the basis for his very nice overlays.

The detailed documentation of the various Dundon structures are grouped on the pages as follows:

RAILBUS SHEDS
- All the railbus and motorcar sheds and the ice house
COMPANY HOUSES
- J.G. Bradley's house, the 'Red Row" houses, Lanham house and the Dundon Community Building
DUNDON SHOPS
- The engine house, machine shop, sand tower and yard tracks, the ERC&L Dundon Headquarters and the later Yard Shops
COMPANY STORE
- The ERC&L Dundon company store and the B&O truss bridge over the Buffalo Creek
B&O STATION
- The B&O's small station, Bower Coal Sales and the other small structures near the station.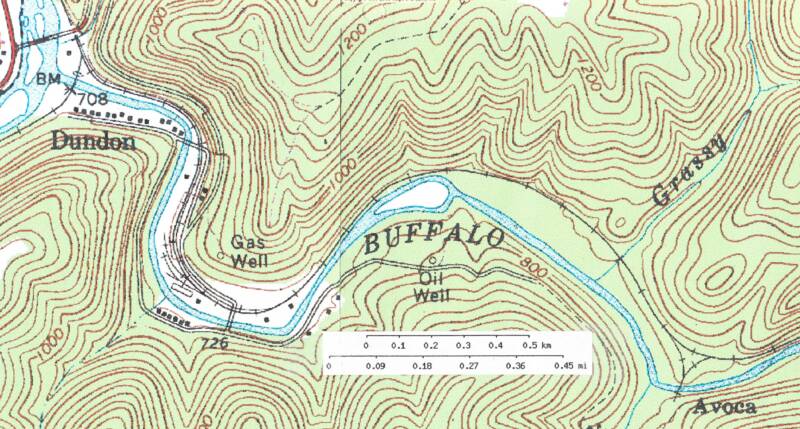 Here is the US Geologic Survey topographic map that Phil used as the basis for his maps.  Notice that not all the structures nor all the track are shown here.  With input from the Baughmans and through the study of photos, Phil filled in the details.

The wye at Avoca is visible in the lower right corner.  The Lilly Fork logging branch headed off toward the bottom of the map.