Structures have much to do with establishing the location and period of a freelanced model railroad.  When you are modeling a specific prototype, such as the BC&G, it is nice to be able to build models of actual buildings that existed on and around the prototpye.  Unfortunately, structures are usually not the primary subject of photographs taken of a railroad, unless the photo was taken expressly for the purpose of documention to facilitate building a model.  For the most part modelers must study photos of trains and extract what information they can about structures from them. 

This section contains photographs of the most significant structures on the BC&G, the ones that a modeler would likely want to include in an accurate layout.  Fortunately, folks like Jeff Madden and David Marquis visited the railroad while some of the structures were still in place and recorded them.  Many of their fine photos are in color, a great asset for the modeler.  David even took dimensions of some structures and generated drawings so he could build models.  His photos and  drawings, among those of others, are presented here.  Of necessity, in some of photos here the structure is not the primary subject.

It seemed the most logical way to organize the information was by town, starting at Dundon and proceeding through Cressmont, then Swandale and ending at Widen.  Some of the towns are further divided by their main structures.

This photo showing BC&G Motor "A" at the Cressmont dairy is typical of one where the structure is not the prime subject and is only partially visitble.   Photo from C.W. Jerstrom collection, dated September 1958, just months before the dairy closed.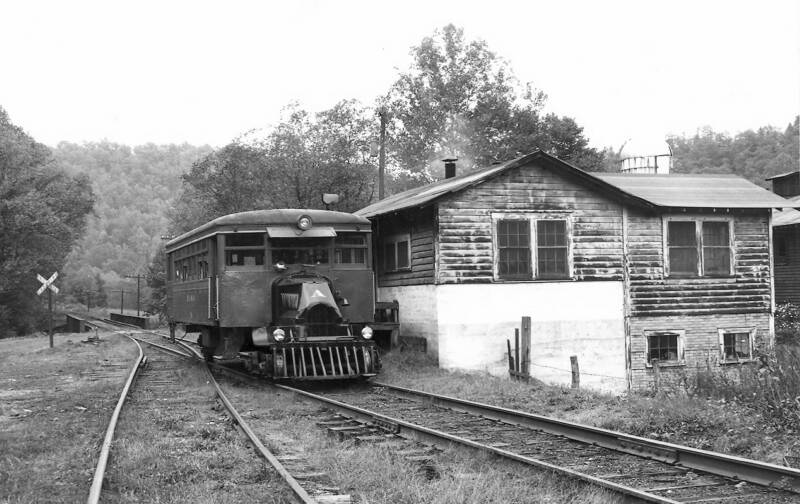 C.W. Jerstrom collection - September 1958







PANORAMIC PHOTOS AVAILABLE FROM CLAY COUNTY HISTORICAL SOCIETY

The wonderful panoramic photos below, all taken in the early 1900's, are available from the CLAY COUNTY HISTORICAL SOCIETY.  The originals, from the collection of Elvin Frame, are very large photos measuring nearly 40" in length.  For hi-resolution digital copies or prints of these photos, contact JUDY HART, 16 Downing Street, Charleston, WV  25301 or call her at 304-545-2956.

EARLY SWANDALE  (circa 1915)

Circular Sawmill
- click
here
for enlargement